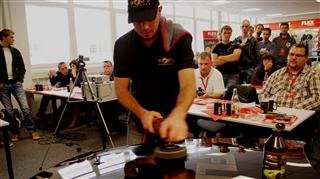 Jesse O'Connor is from the USA and has been living in Hungary for 17 years. Jesse started his detailing career at a local car wash in his hometown back in 1990, and since then he has worked for companies such as GM, Ford, Toyota, Saturn and Honda. Other companies that he has had the honor of working at include the world-famous McLaren Motors (paint correction and preparation consulting) and Ferrari. Aside from being a consultant and being contracted to work at many different companies, Jesse has also traveled the world teaching detailing/paint correction seminars, and has customers around the globe like in Greece, England, Switzerland, Slovakia, Romania and even as far as China.
After starting his own mobile detailing business in Hungary, he embarked on a business venture with a Hungarian entrepreneur to form the company Wolf's Chemicals. Together they developed, tested and manufactured professional car detailing products and soon became an international success. After many years in the business he gained an extensive knowledge of chemistry, composition of products and an in-depth view of how each and every product works and their correct applications.
After several years in the retail (export) business with Wolf's Chemicals, Jesse decided to sell his part of the company and go back to doing what it is that he truly loves… detailing! And after a short vacation at the end of Wolf's venture, Jesse is now back full-time in detailing… and this time with the help of a new and enthusiastic partner, his friend Szűcs Gábor. Together they are Zenith Detailing.